Sugar Snap Peas with Tomatoes and Garlic
Derf2440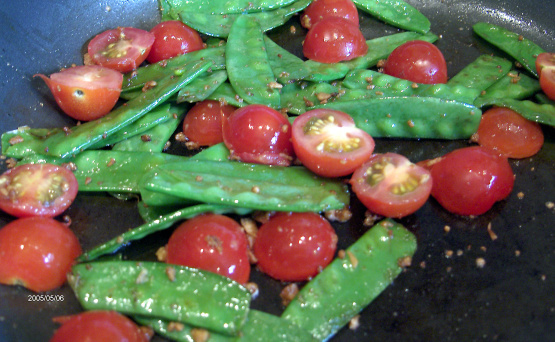 If you like snap peas you'll love this. Colorful and great tasting in no time at all!

Stacylu, we really enjoyed these peas! I did make a few changes out of necessity. I couldn't find Sugar Snap Peas so I used Snow Peas. I cooked them in 3 TBS butter for 5 minutes, added the garlic and then the water as needed to add some moisture. Even though I used Snow Peas, the results were wonderful! So very colorful and a delightful addition to our table! I will definitely make this recipe again! Next time, I may add a little green sliced onion to the mix. Absolutely delicious! Thank you for your recipe, Stacylu!!
Spray a sauté pan with cooking spray and set over medium-high heat.
Add snap peas and water and cook, stirring, for 5 minutes.
The peas should be just tender with some crispness.
Add garlic and cook, stirring, for 1 minute.
Add tomatoes and cook until heated through, about 1 minute longer.
Season with salt and pepper before serving.