Sugar Snap Peas With Pine Nuts and Garlic
Ms B.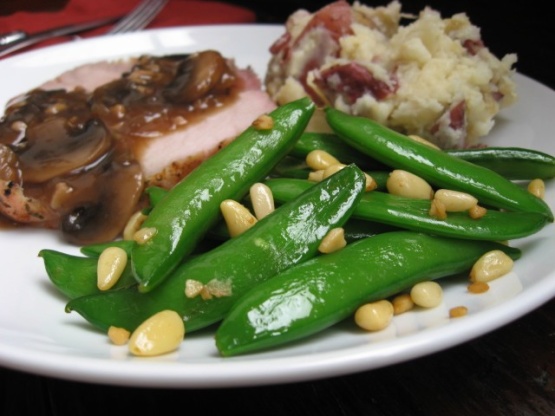 Recently, my area experienced a blizzard that knocked out power for almost a full day. While I had my gas stove for cooking, I didn't have access to the internet to search for recipes. I had to resort to sifting through my cookbooks. I found this method for preparing sugar snap peas in the Perfect Vegetable cookbook by Cook's Illustrated. The veggies are crisp and bright with the depth and earthiness of the pine nuts and garlic. Great side dish.
Bring 6 cups of water to a boil in a large saucepan.
Add the salt and peas and cook until crisp-tender, 1.5 to 2 minutes.
Drain the peas, shock them in ice water, and drain again.
Dry the peas well on a rimmed baking sheet lined with paper towels.
Heat the oil in a large skillet over medium heat until almost smoking.
Add the pine nuts and cook, stirring frequently, until they are lightly golden brown, 1 to 2 minutes.
Stir in the garlic and cook until fragrant, 30 seconds.
Add the peas and cook, stirring frequently, until the peas are heated through, 1 to 2 minutes.
Season to taste with salt and pepper and serve immediately.