pheebess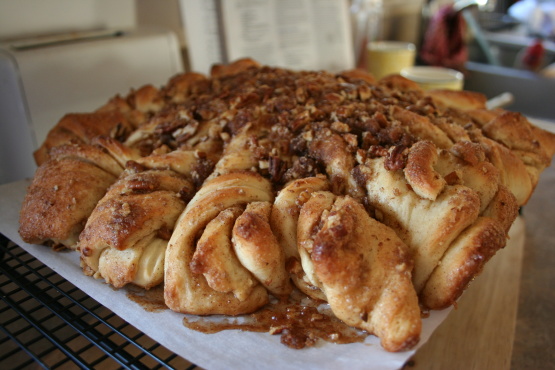 This recipe is an amalgam of a few different recipes in one, made to suit the use of a bread machine. It makes a breathtaking presentation, perfect for company. It took some trial and error to be sure this was baked through, so be sure to test it and make sure it isn't too doughy. This could also be made without the addition of the maple flavoring or syrup to suit personal preferences.

When my husband tried this he said he'd died and gone to heaven! I thought maybe I should glaze this but I think it would be too sweet. I did cut back on the white sugar in the filling, I don't know that you even need it. My house smells so good! Thanks a lot this is a definite keeper!
Place all dough ingredients in order recommended by your bread machine manufacturer. Select dough cycle and start machine.
Combine the first five filling ingredients in a medium bowl; set aside. Turn the dough onto a lightly floured surface; divide into thirds.
Roll one portion of the dough into a 12 inch circle. Transfer to a greased 12 inch pizza pan or a large greased cookie sheet (I line mine with parchment paper instead of greasing it. It's very easy to lift from the pan that way).
Brush with a third of the butter; sprinkle with a third of the filling. Repeat twice with the remaining dough, butter, and filling, placing each circle of dough over the previous layer. Pinch outer edges to seal.
Place a small glass in the center of the dough. With kitchen shears, cut from the outer edge to the glass to form 16 wedges. Remove the glass; twist each wedge three times.
Cover with plastic wrap. Let rise in a warm place until doubled, about 30 minutes.
Uncover dough. Bake at 375 F for 30-40 minutes until deep golden brown, checking frequently for doneness. Remove from pan to a wire rack.