Sugar Hill Inn's Raisin Scones
gailanng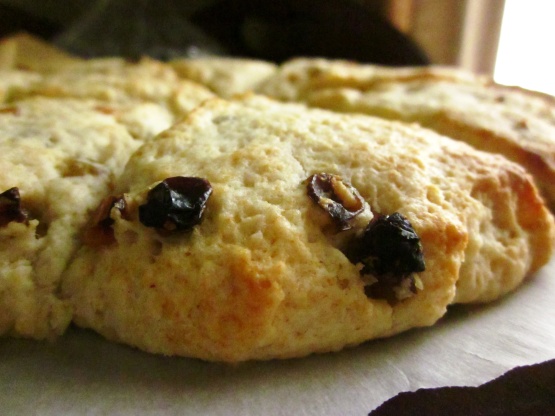 I stayed at this quaint little inn, located in New Hampshire, for several nights and was lucky enough to enjoy their amazing breakfasts. This is just one of their delicious recipes that I know I will be making for years! We had the cranberry scones, so I would substitute cranberries for the raisins in this recipe. The scones were also served with a delicious orange butter. This recipe results in a soft, not-too-sweet scone that absolutely melts in your mouth. I remember course sugar being on top of these scones, which is not mentioned in the recipe. If desired, I would sprinkle enough to taste on the dough before baking.
Preheat oven to 425.
Add dry ingredients into a food processor and pulse.
Add butter, and pulse 15 times.
Add raisins or cranberries.
Transfer mixture to a mixing bowl.
Add cream.
Mix with spatula.
Turnout onto parchment paper.
Lightly knead.
To shape, press into a 9" round non-stick pan.
Remove dough from the mold and cut into 10 wedges.
Bake 12 - 15 minutes.