Sugar-Grilled Baby Carrots and Onions With Pecans
Rita1652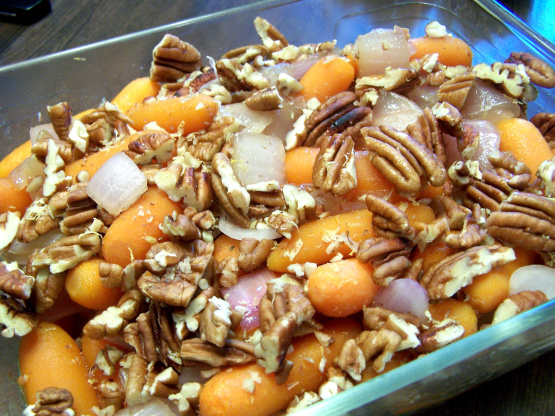 This recipe was created for RSC#10. It makes a great side dish. Edited 1/2/2008 to reduce the amount of oil and sugar and cooking time as suggested by a reviewer.

This is a tasty recipe-the combination of flavors is great. It is also easy. I think the next time I make it I would just saute it all together (including the pecans) so they coat too - nice entry-good luck!! Might depend on how crunchy - cooked you like the carrots to remain - they may need to cook a bit longer for my taste. RSC#10.
Preheat gas grill to medium-high heat.
In bowl roll the baby carrots and onion with olive oil.
Coat with brown sugar and salt.
Place carrots and onion on aluminum foil.
Place on grill and cook for about 30 minutes (make sure to watch closely).
You will want to turn carrots and onions so that they are evenly cooked.
You will know the carrots and onions are done when the sugar is caramelized and the carrots are starting to look burnt.
Sprinkle toasted pecans over carrots and onions before serving.