Sugar-Free Strawberry Pie
Saturn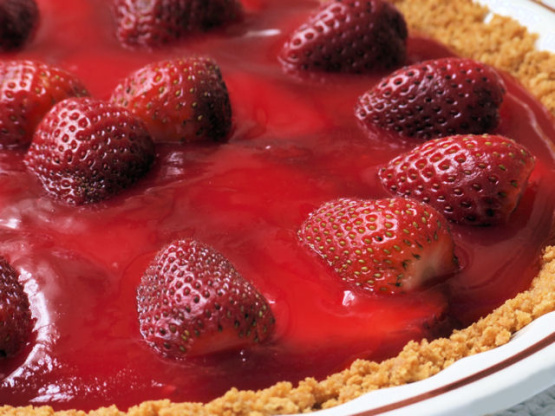 This is an adopted recipe. I am always looking for low fat, low sugar recipes, so I am excited about trying this one. The original introduction said: "I found this in our local paper. It is very simple and good! Hope you enjoy!"
I didn't I could rate it because what I ended up with was so bad I must have gotten the ingredients wrong. :( . The 3 oz. of sugar free powdered gelatin? The product I bought was Meijers Sugar Free low calorie gelatin dessert (UPC 041250020311). This comes in 0.44 oz. boxes so I used 7 boxes and measured out 3 oz on a digital scale. For the vanilla I used 3.5 oz of Meijers sugar free & fat free instant pudding & pie filling (UPC 713733845861). Wrong ingredients? After adding 2.5 cups of boiling water and blending with electric stick mixer it came out looking like fresh blood and cottage cheese! And it tasted like metal. Can you give the exact products you used for the gelatin and pudding? We're your 3.0 oz. and 3.5 oz. measured AFTER preparing them according to box instructions (then additional 2.5 cups of water)? Sorry, guess my Y chromosome is showing!
In a saucepan, mix dry pudding and gelatin water.
Stir over medium heat until mixture comes to a boil.
Remove from heat.
Cool until slightly thickened.
Arrange strawberries in pie shell (whole or sliced).
Pour cooled mixture over berries.
Refrigerate until set.
Serve with whipped topping if desired.
Enjoy!