Annacia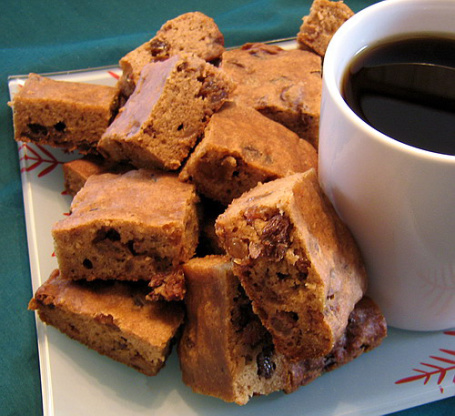 This healthy snack is not just for diabetics. It's a nice light snack for everyone. I made them for my 4-H project that I took in today to the county fair. I received a Blue Ribbon on them. Make sure you use an artificial sweetener recommended for baking.

Made these bars for my diabetic neighbour but am afraid she didn't get all of them. They are unbelievably good and will be made time and again. For us, because we are not diabetic, I put on a thin layer of lemon icing. Going to try and play around with flavors, i.e. use orange juice rather than water or maybe even apple juice. Thanks for a great sugar free recipe. None of us need the extra sugar.
In a saucepan over medium heat, cook raisins, water, margarine, cinnamon and nutmeg until margarine is melted; continue cooking for 3 minutes.
Cool.
Add all remaining ingredients and mix well.
Spread into an 8-inch square pan coated with nonstick cooking spray.
Bake at 350° for 20-25 minutes or until lightly browned.