Sugar Free Pumpkin Custard
Annacia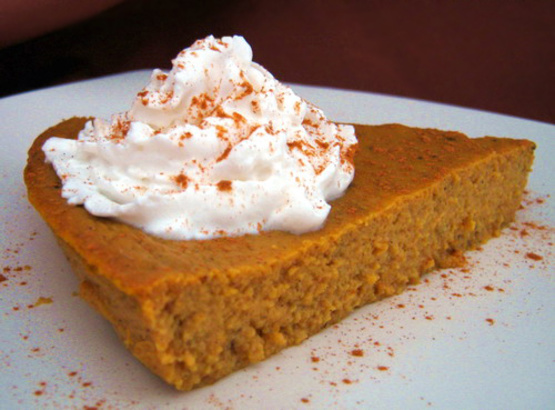 my grandmother is diabetic and i watch what i eat. i saw this recipe at trimlife.com, but i modified my version a bit.

I fully intended to make this in custard cups as stated in the recipe but I would have toss away a part of the can of pumpkin. I increased the amount by one serving and had enough to make a pie, so I did! I used 1/2 a cup of Eggbeaters, a rounded 1/2 cup of Splenda and fat free evaporated milk. I really felt that it would be flat in taste with just the cinnamon so I used 1 1/2 tsp of Recipe #266688. It came out great as a crustless pie that was fat and sugar free! :D
Put pumpkin and evaporated milk in mixing bowl.
Break an egg and egg white into the mixture.
With mixer or wooden spoon, beat mixture until smooth.
Add the cinnamon.
Mix well.
Pour into custard cups.
Place water inside casserole pan and put custard cups inches.
Bake 15 minutes at 425°F.
Lower temperature to 350°F and bake for another 40 to 45 minutes or until knife inserted comes out clean.