Sugar Free Pistachio Ice Cream - Freezer Made
Krsi Sue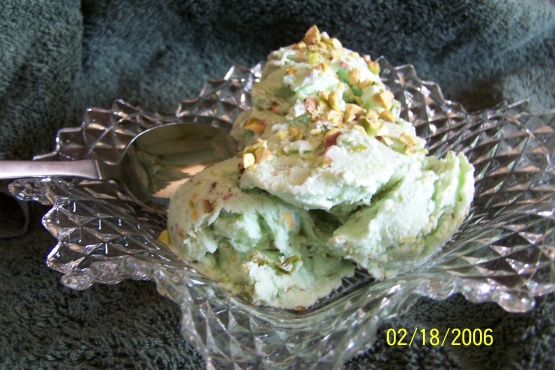 You do not need an ice cream maker for this. Pistachio ice cream is my favorite & hard to find. I cannot digest sugar, so I took a woman's day recipe and changed it to fit my needs. I prefer salted pistachios, but feel free to use unsalted. You can use regular sugared pudding as well, but if you do, use the 3.4 oz size. This freezes very hard, so it's best to eat it up shortly after the first 2 hours!

I used fat fee half & half. It was very good.
Put half and half and pudding mix in a medium size bowl and beat with a whisk for 2 minutes.
Stir in pistachios.
Pour into a metal cake pan and freeze at least 2 hours, until firm.
Every 30 minutes, while freezing, stir frozen edges towards the center with a rubber spatula.
Serve sprinkled with chopped pistachios.