Sugar-Free Mock Lemon or Fruit Pie Filling
Annacia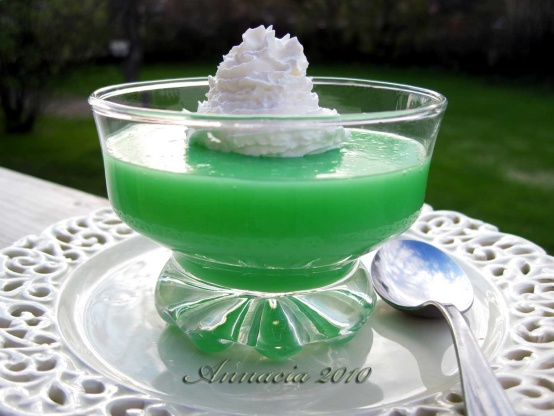 YOU WON'T BELIEVE THIS!!!!! I am a diabetic. This is amazing. You will love this lemon pie. Works very well in individual tarts too. Bite sized heaven to serve to guests. I hope you try this. It is low fat, low calorie and low sugar. I find that using both the Splenda and NutraSweet together is cheaper. Do not add the sweeteners until the thickened water is at full bloom and OFF the stove. High heat kills NutraSweets sweetening power.

I used lime kool Aid with lime juice and all Splenda and no gelatin . It set up just fine but it lacked a creaminess. You have to love the fact that it has almost no calories but I think I try this again using gelatin and adding some fat free evaporated milk. Perhaps using the crust would make a difference in the overall taste and texture but I just put it into dessert dishes.
946.0

ml water

7.08

g packetkool-aid sugar-free lemonade-flavored drink mix (or another flavor for a different mock pie filling. Later, you can even add canned fruit)

236.59

ml cold water

118.29

ml cornstarch (mixed thoroughly in the cold water)

29.58

ml ReaLemon juice

0.25

ml salt

236.59

ml Splenda granular, sugar substitute

8

(8 g) packet Nutrasweet (leave out this step or adjust # of packets if you like a very tart pie)

118.29

ml nonfat yogurt

0.19

ml yellow food coloring
Directions:.
Boil water----- whisk in lemonade mix.
Whisk in the cold water and cornstarch mixture s-l-o-w-l-y,until mixture begins to boil again and thicken. Remove from heat when it is thick. (do not add the following while still on the heat!).(You can also add one to two tablespoons of Knox unflavored geletine to the COLD WATER and let it set for a few minutes to bloom, before adding the cornstarch to it. It will help keep the pie from 'weeping'.).
Add salt, Splenda, NutraSweet, lemon juice, yogurt and whisk to blend thoroughly. Add food coloring of your choice a drop at a time, until you are happy with the color.
(You can fold in 1 to 2 cups of fresh or drained canned fruit now if you want. Strawberries, peaches, pineapple, apricots, and fruit cocktail are great! Try adding canned apples with some cinnamon and raisins to cherry Kool-Aid!).
Pour 2 cups of filling into each of three gram cracker crusts and cover each with saran wrap. Refrigerate. When they are firm, cover pie or individual slices with sugar-free cool whip or a diet, canned whipped topping. Cut into 6 or 8 pieces to serve.
You can also use individual tart shells to for great finger food!
OR YOU CAN Refrigerate in Tupperware for*** burrito pie filling***(see below).
***put ½ cup of chilled filling in a large flour tortilla and roll into a tight burrito that is well sealed. You can spray it with 'I can't believe it's not butter spray' but it is not necessary. Bake it/them seam side down on a rack in a toaster oven on medium toast or until brown. ('fan bake' works crispy-great!) Put something under it like foil in case it/they leaks (if you roll it/them well, it/they won't! Toaster ovens vary, so watch them closely until you figure out your oven. You can use a regular oven for 2 or more at a time, i suggest 350-375°Fs and watch them carefully until they are golden brown.