Sugar-Free, Fat-Free Whole Wheat Bread [ Bread Maker ]
DuChick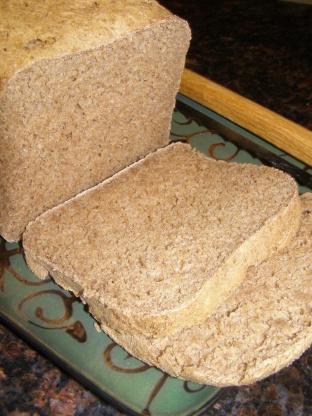 For those of you who wish to watch the waistline, or cannot have sugar or fat for health reasons, this is a tasty bread which I make twice a week for my Dear Wife, who is diabetic. She highly enjoys it, and I hope you do, too. [This is highly adapted and readapted from the Bread Machine instruction book.]

WONDERFUL!! This bread has a great texture and taste. It is not heavy. I used 1/2 wheat and 1/2 white flour. YUM....I am going to make this bread for my family instead of buying it from now on. Thanks for this recipe!!!
Add the ingredients according to your instruction manual, set the machine to a 2 pound loaf, choose your desired crust, and bake. Enjoy!
This goes well with the DragonFyre Oil Recipe or for consumption as a daily bread.