Sugar Free-Fat Free- Cinnamon Hot Chocolate Mix
pammyowl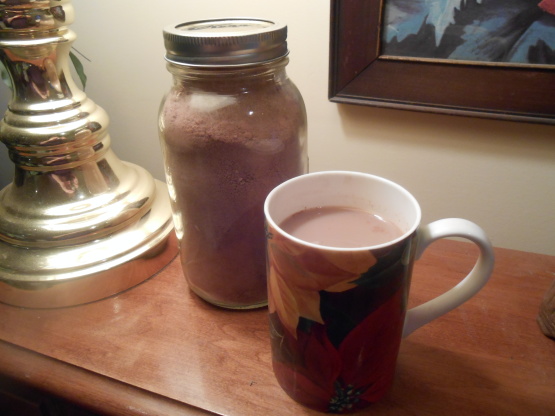 You can vary the flavor as you like with this. Try using Amaretto dry coffee creamer for 1/2 the milk and skip the cinnamon for example.

This is an excellent hot chocolate.. We were simply blown out of the water at the wonderful taste of this mix. It is far superior to any store bought mix I have tried and that includes the sugared ones. I believe the pudding gives it that boost to make it so special but it is a keeper and have gave it out to several people already. Thanks SO much for posting this recipe
Mix all ingredients together and place in an airtight container.
To make hot chocolate, use 1/4 c mix and 1 C hot water.
Number of Servings: 18.