Sugar Free Dark Chocolate Mocha Dream Coffee
Annacia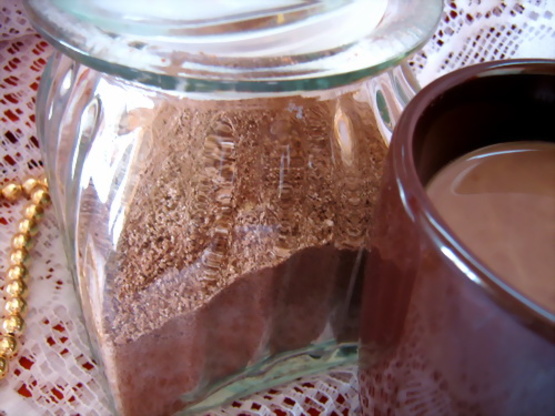 This is a modified hot cocoa recipe. It is rich with dark cocoa and is sinfully delicious in your coffee cup. If you like creamer, add it to your coffee BEFORE this mixture. It is dark and deep and you will find it impossible to gauge how much creamer you need. The yield of the recipe depends on how much you use for cup. I prefer a lot of it. Make sure you have a freezer bag to keep the extra in between cups.

Delicious. I cut the recipe to the following amount and it made lots: SERVES 2 1/2 -3 , 1/4 cup. It's very simple to make from things that I always have on hand. I love bittersweet chocolate and this comes close. I added 1/2 a tsp of vanillin because a touch of vanilla always adds a very complimentary note to chocolate. I made the mocha with hazelnut flavored coffee and use two *heaping* spoonful's of the mix. It didn't need cream, extra sugar (in fact you might want to trim back the Splenda if you enjoy you coffee less sweet). If you like dark chocolate and coffee you must try this.
using a very large bowl and a sifter (or a blender if you don't mind powder residue in your hair) sift all ingredients together at least twice.
Make sure and mix well with a plastic or wooden spoon.
To prepare, fill mug 1/3 full of this mixture and add freshly brewed coffee. From a press pot if possible.
Prepare your coffee first if you use creamer. This mixture is very dark and it will be hard to judge how much cream you need by color.
(to use as hot cocoa, substitute hot water for coffee).