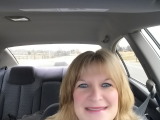 My dad is a diabetic and this is his one of his favorites. It is very tasty and satisfying even to the non-diabetic.
Directions
Make jello according to directions on the box.
Chill until slightly thickened.
Drain pineapple and add to the jello along with the grated carrots and chopped celery.
Mix together and chill until firm.
Reviews
Most Helpful
never tryed with the orange gelatin nor celery,so here goes for thanksgiving.wish me luck,i"m sure it will be great,i" ll let you know.
This is 5 stars all the way !!! Light , refreshing and DELICIOUS !!!

Melanie, I made your salad last night for my diabetic daughter. She really likes this salad, as well as the rest of us. I did drain the pineapple for a few minutes and also cut back the water to 3 1/2 cups, as I wanted to make sure it would set up. I've always made this for DD but never adding the celery which is a nice addition. I guess I just never thought of it. Thanks!