Sugar Cookies With Mexican Flair
Nimz1466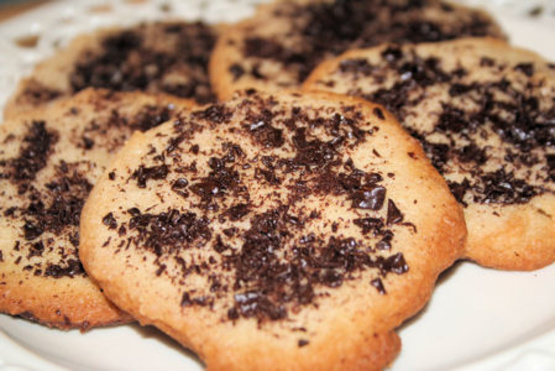 This is my version of a lovely light cookie we had while on holiday in Huatulco last February. Had to do a lot of taste testing trying to figure out what the ingrediants might be.

Enjoyed these very much, especially with the cinnamon & the chocolate (Used a LOT of chocolate shavings!) combo! Definitely different, & my company LOVED 'EM! Thanks for posting your recipe! [Made & reviewed as a kidnapped recipe in the Aus/NZ Recipe Swap #16]
Preheat oven to 350F and grease cookie sheets.
In a large bowl, beat butter, cream cheese, 1/2 cup of sugar, cream, vanilla and 1/2 tsp cinnamon until light and fluffy.
In a small bowl mix together flour and baking powder.
Slowly add the dry mixture into the wet until well mixed.
Blend together 1/2 cup sugar and 1/2 tsp cinnamon on a small plate.
Drop 1 inch balls of dough 3 inches apart on a cookie sheet. Flatten the cookie balls with the bottom of a drinking glass that has been dipped into the sugar & cinnamon mixture.
Bake 20 minutes or until edges are golden brown. Remove from cookie sheet immediately and set on wire racks. Sprinkle with chocolate shavings while still warm.
**I baked 2 dozen cookies at once on two racks in a convection oven. Cook time was 15 minutes.