Prep 20 mins
Cook 10 mins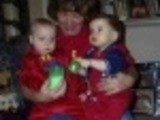 This recipe was given to me by a lady from Texas about 25 yrs. ago. It is the best sugar cookie recipe I have ever tasted, and the response to it from others who have eaten it has been similar to my experience. I have never tried to ice it or make shapes from it. It's just good on its own. This is a double recipe - because that is how it was given to me.
Directions
Cream butter and sugars.
Add oil, eggs and vanilla and mix.
Add dry ingredients gradually.
Measure out by level spoonfuls.
Roll into balls.
Place on ungreased cookie sheet and flatten with the bottom of a glass dipped into sugar.
Bake at 375 until just set and edges are slightly browned (about 10 minutes.).
Reviews
Most Helpful
i just finished baking a double batch for my grandsons birthday party and i have to say i may have to bake another double batch as everyone was eating them as they were coming out of the oven!!! they are absolutly the best sugar cookie recipe i have made, the dough was very easy to work with, yummmmmmm
12/2011 Started with these again. Wish I had checked my last review -- did the entire recipe -- got at least 10 doz., maybe more ! DID do convection, and most were light brown in 7 min. My batter is WAY too soft to roll in balls - used scoop with good results. Happy Holidays, Trisha.

12/2010 My first batch of Christmas cookies ! YUMMM! I have never made sugar cookies because I am rolling-pin challenged -- BUT saw these could be dropped ! SO easy ! I made 1/2 batch and got 6 1/2 doz. cookies, using a #40 Zeroll scoop ! First time to use convection option - 1st batch was brown edged at 8 minutes, so set the rest for 6, and removed when tan color started. I always bake cookies on Sil-Pat, and they did not spread much at all. Just wet the bottom of a juice glass and pressed into colored sugar then lightly on the cookie prior to baking. I did refrigerate between batches, only a few minutes. They are wonderful ! Thanks for posting, Trisha W.

I used light butter (my real butter disappeared last week over Thanksgiving!) and so the texture of these cookies was much more pillow-like than if I had used REAL butter. But! That said! They're amazing, and if you LIKE a chewy cookie (which I do), then light butter is a fine choice! I did have to refrigerate the dough and skip the roll-into-balls stage... my friend and I had to force ourselves to stop eating after we plowed through six cookies. Yum!