Pam-I-Am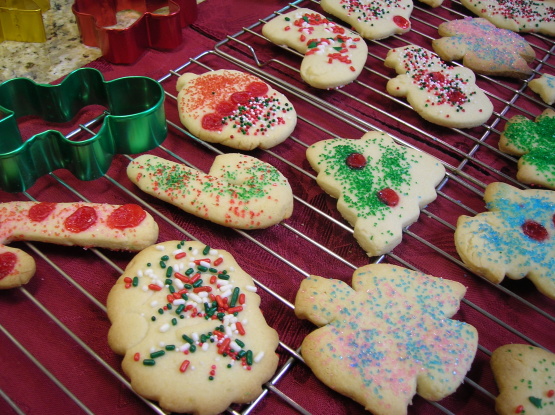 Delicious sugar cookies, especially if you use the vanilla and almond extracts together. Perfect for roll-and-cut Christmas cookies. Can also be formed into logs for slice-and-bake cookies. Thanks to PetitFour for the original recipe! Prep time includes chilling time.

Great cookies for frosting! They aren't very sweet, so the frosting doesn't kill you with sugar. I had trouble with them because I rolled them out too thin (about 1/4 inch) , and they came out dry and crunchy. Once I realized the problem and rolled them a little thicker, they were great.
Mix dry ingredients in separate bowl.
Using stand mixer or hand mixer, beat butter and sugar until fluffy.
Beat in eggs one at a time, scraping down bowl each time, then vanilla and/or almond extract.
Add flour mixture gradually and mix at low speed until comes together.
Turn out onto flat surface.
Knead a couple of times just until smooth.
Pat into a flat disk, wrap in plastic and chill until firm enough to roll, about one hour.
Roll and cut as desired.
Bake at 350 about 8-10 minutes on parchment-lined sheets.