Sugar Cookie Cherry Cheesecake
Eric R.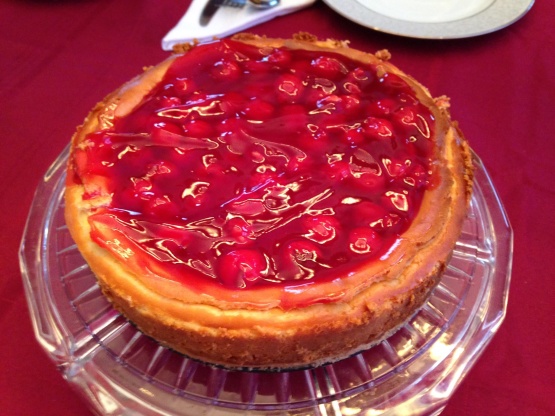 A sugar cookie crust, a thick cheesecake filling and cherries galore on top! A perfect dessert…that is, once you add some whipped cream of course!!! Try this cherry cheesecake soon! Thanks to the sugar cookie crust, this dessert comes together rather easily! The filling is simple, too! Just be sure to bring your cream cheese to room temp first for easier blending! - See more at: http://hugsandcookiesxoxo.com/2014/06/sugar-cookie-cherry-cheesecake.html#sthash.dc86iSbr.dpuf
Press the cookie dough into the bottom of an 8 inch springform pan and bake at 350 about 15 minutes until almost done.
Let cool.
Meanwhile, beat cream cheese and sugar.
Add vanilla and one egg at a time, beating well.
Pour into crust.
Lower oven to 325 and bake 75-90 minutes until cooked through and browned.
Chill overnight in fridge and top with canned cherry pie filling.