Rita1652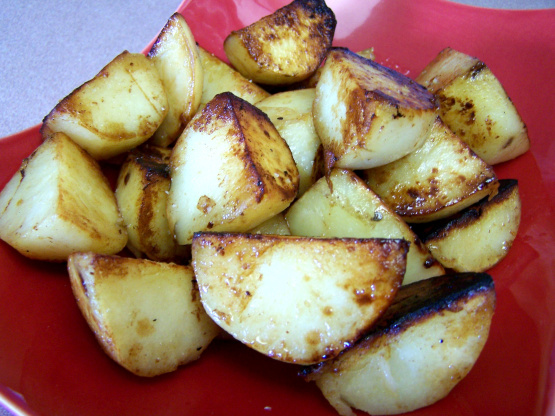 These potatoes are eaten throughout Scandinavia, but they are especially popular in Denmark. The Swedish version would have a bit more sugar. Posted for the Zaar World Tour 2005. Zaar World Tour II

These were ok... my main problem was that the sweetness was rather too sweet for our tastes and that I expected them to get a lot browner. Sadly the most browning took place on the bottom of my pot as the sugar burned even on the lowest flame as I tried to increase the golden colour of the potatoes. I am pleased to have tried such a different recipe but disapointed that no one here really liked them much, so sadly in our home they weren't much of a success. Please see my rating system: a sad 2 stars for a recipe that didn't really work for us but that I see did work well for others so it's fair to say that personal tastes account for a LOT in some recipes. This one is obviously one of them, so DO give it a go and judge for yourself. The old motto is as usual: if you don't give New a go, you will never know... Thanks!
Melt butter in heavy pan and stir in sugar.
Brown sugar but do not burn.
Add potatoes, shaking pan constantly to brown on all sides.
When potatoes are golden, sprinkle with salt.