Sue's Very Rich Pumpkin Cake
michEgan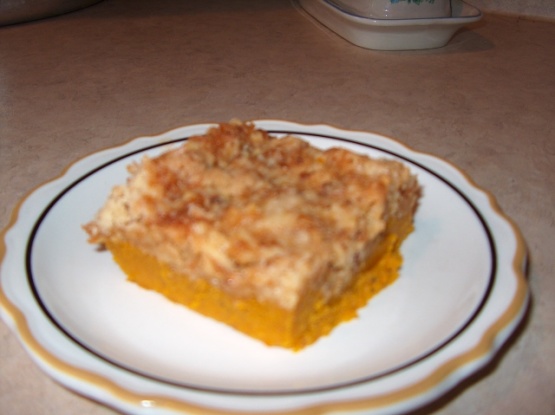 A co-worker brought this cake into work today. It was sooo good that I had to get the recipe.
The cake in and of itself is delicious. However, the topping is beyond delicious. My husband and I both picked at the topping until there was nothing left but the bottom part, which we also loved. Definitely a keeper.
Preheat oven to 350 degrees.
Beat the first 8 ingredients (pumpkin through cloves) and put into an ungreased 9 x 13 pan.
Sprinkle dry cake mix over mixture.
Pour melted margarine over the cake mix.
Sprinkle with chopped nuts.
Bake 1 hour- no longer!