Succulent Roasted Pork Loin

We make pork loin quite often in our house and this recipe has quickly become a favorite. It's easy and delicious and one I'm sure you will enjoy as well!
Directions
Preheat oven to 350 degrees F.
Crush garlic with rosemary, salt and pepper, making a paste.
Pierce the meat with a sharp knife in several places and press the garlic paste into the openings.
Rub the meat with the remaining garlic mixture and olive oil.
Place pork loin into oven for 2 hours, turning and basting with pan liquids.
After 2 hours remove roast to a platter.
Heat the wine in the pan and stir to loosen browned bits of food on the bottom.
Serve with pan juices.
Enjoy!
Reviews
Most Helpful
My husband loved this recipe. I found it to be average.
The flavor was good. It was easy to make. I'm only giving it three stars because the olive oil made a huge mess in my oven. A day later, and my house still smells like the oil. If there is a different way to do this without the mess, I'm open to suggestions.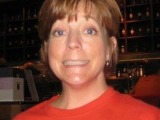 I made this for a small dinner party and it was delicious! I did not use the white wine, as I wasn't serving a gravy/juices with the pork. However, while doing clean up, I decided with the flavor of the meat, to save the juices - so I added some water, scrapped everything off the bottom of the ban, and froze it so I can make gravy with it another time. Thanks for a great recipe that is tasty and easy!