NELady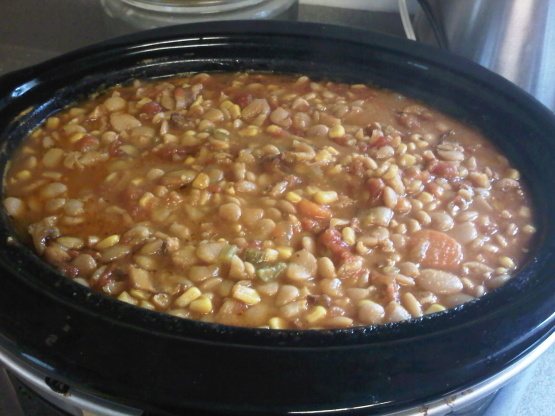 Bacon is the key ingredient in this savory combination of lima beans, corn, and tomatoes. I used a crockpot but it could easily be adapted to the stovetop.

This is a very good recipe that could, for my taste, be a bit better. The next time I do this I plan to: add --
¼ cup diced green pepper.
¼ cup celery.
Maybe some diced onion.
2 bay leaves.
A dash of liquid smoke or use smoked bacon.
Tabasco. (A few dashes.)

Then cover the whole uncooked mix with some more chicken broth.

Again, I liked this and plan to do it again!
Boil lima beans for ten minutes.
Drain, rinse and drain again.
Layer bacon on bottom of crockpot.
Pour beans on top.
Pour tomatoes (with juice) and corn (with juice) on top.
Break up tomatoes if they're whole.
Add broth and water.
Cook on high for 3-4 hours (or low for 6-8 hours).
Stir and serve.