Prep 10 mins
Cook 10 mins
This is typically not my type of dish, but when my colleague Dominic made it I was sure to jot down his recipe.
Directions
Boil lima beans in salted water for 5 minutes or until tender.
Drain well.
Melt butter in saute pan over medium low heat.
Add onions, beans, corn and tomatoes.
Saute, stirring often for approximately 5 minutes.
Add salt and pepper to taste.
Serve hot.
Most Helpful
Nice variation on this classic dish. The tomatoes and onions added both flavor and liquid and helped keep the lima beans and corn moist. I omitted the butter and used just enough olive oil to saute the onions.
Nice and refreshing change to succotash. My BF made this for supper using frozen corn and lima beans, canned diced tomatoes and less than 1 tablespoon of olive oil instead of butter. The tomato and onions made a pretty and tasty dish even prettier and tastier. Thanks very much for a new and easy side dish!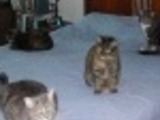 This was a nice easy way to dress up lima beans. I used canned lima beans and halved the recipe since there is just two of us. Thanks