Subway Vegetable "delite" Wrap (Copycat)
Annacia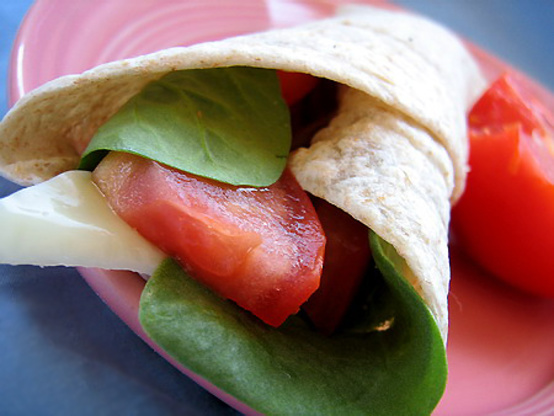 I never realised how dependent I was on subway until I started to spend lots of money on it. So I went there for the last time (sob) to watch them make this; then I flew off to the supermarket, got the ingredients and started playing around. I like to add 1/4 cup refried beans to liven things up.
10

inch whole wheat tortillas

59.14

ml refried beans (optional)

1

slice emmenthaler cheese, sliced into 2 triangles

78.07

ml lettuce, shredded (up to 1/2 cup, depends on the amount you can stuff in)

1

tomatoes, sliced

0

large onion, sliced

4

pickles

3

olives, sliced (optional)

9.85

ml fat-free Italian salad dressing

9.85

ml honey mustard
Spread the refried beans (if using) and sliced cheese onto the tortilla and microwave it for 30 seconds, or until melted.
Put the lettuce, tomato, onion, pickles, olives (if using) and any other vegetable that you want (such as peppers) on top of the cheese.
Drizzle with dressings.
Making sure that all the filling is in the centre of the tortilla, wrap it up carefully, tucking in all edges.
I hope my instructions are clear enough! :).