Subgum With Pork (Vegetables and Pork)
Derf2440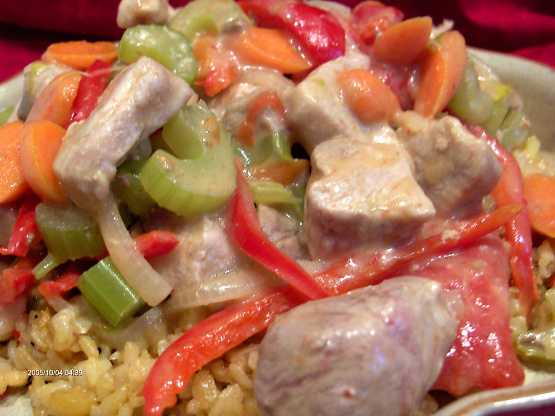 This is a dish I used to to eat at my mom's on Sundays before she left us. It was my favorite meal at mom's and it's still my favorite today. It is unbelievable good and looks so pretty on the plate. It is low cal and low fat and so good.
1⁄4 cup oil

1

lb pork sirloin chops, cut in bite size pieces

2

cups celery, sliced diagonally (thin, about 1/4-inch)

1

cup carrot, sliced diagonally

1

bell pepper, cut in strips

1

medium onion, sliced

1

plum tomato, quartered

1

(10 3/4 ounce) can cream of mushroom soup, plus
5 3⁄8 ounces water

2

green onions (optional) or 2 chives, for garnish (optional)
In wok or large skillet, put oil and heat medium high,.
Stir fry pork about 5 minutes, till no longer pink; take out.
In same pan put vegetables and stir fry about 5 minutes.
Add the pork to the vegetables and add soup and water.
Cook 10 minutes more.
Serve over rice or noodles.
Garnish with chives or chopped green onions (optional).