Styrian "gigantes" (Scarlet Runner Bean Casserole)
Eismeer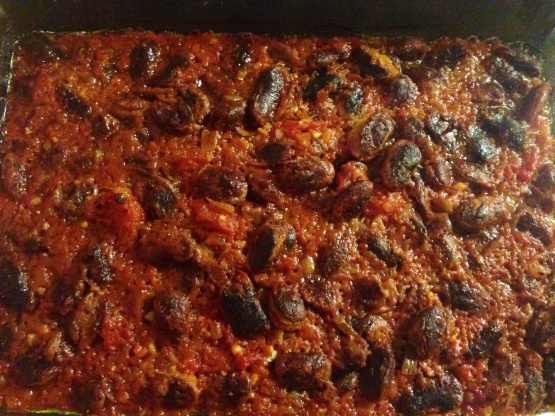 This is a styrian version (Styria, Province of Austria) of a hearty, simple and vegan Greek Bean dish, that tastes heavenly and uses "Käferbohnen" (Scarlet runner beans) instead of white giant beans. If you can't get hold of Scarlet Runner Beans use giant beans instead. The original recipe calls for about 200ml olive oil, i cut that lavish amount in half, and still find it's enough oil left :). Prep.time comes without beansoaking time!

This dish is absolutely delicious. I made as written but skipped the baking part, because the flavor and texture was wonderful once I finished sauteing/stir frying for about 10 minutes over medium/high heat. Thanks for posting, this is a keeper and will be made again. Made for Spring 2012 PAC.
300

g scarlet runner beans (dry or 400g canned)

100

ml olive oil

1

onion (white, large)

3

garlic cloves (minced)

4

tomatoes (fresh or 1 large can tomatoes without juice)
salt and pepper
If using dried beans, soak them overnight and cook according to package instructions (usually for 90min.).
Cut onion in about 0,5cm pieces, mince garlic, peel and seed tomatoes (put in boiling water for about 30sec.) and chop into bite size pieces.
Heat olive oil and add onion and garlic. Let fry until translucent.
Add beans and tomatoes. Stir.
Salt and pepper to taste.
Transfer to baking dish and let bake for about 20-25 minute at 175°C (until the beans go lightly crispy).
Enjoy with white bread, such as baguette, ciabatta or pita. The oil onion mixture tastes heavenly when dipped into.