lets.eat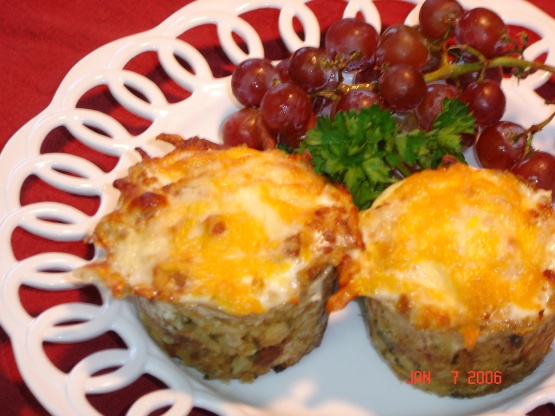 Another recipe from Kraft's What's Cooking Spring issue. While I have not yet made these myself, they sound downright interesting! If you make them, let me know how they turn out!

These were just OK for us. I followed the recipe as written other then I did use some advice from other reviewers. I only used 5 XL large eggs and a scrambled them in a bowl. I added the bacon and cheese to the egg mixture. Since others complained they were plain, I used cheddar cheese and salt and pepper. Mine made eight muffins but if I would make them again, I would make 12 muffins (I would put less stuffing in each cup) as we thought they had too much stuffing and not enough egg.
Preheat oven to 400°F.
Prepare stuffing mix as directed on package.
Press 1/4 cup stuffing firmly onto bottom and up sides of 8 muffin cups, forming about 1/4 inch rim around top of cup.
Crack 1 egg into each stuffing cup; sprinkle with bacon bits and cheese.
Bake 20 minutes or until yolks are set.
Let stand 5 minutes before serving.