Leslie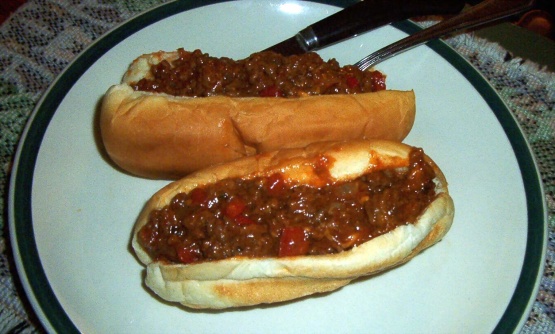 This came from my sister-in-law from Quebec. It's a home made Sloppy Joe recipe. Tasty, easy and a kid pleaser.

You Know,I am always a one sandwich person when we have sandwiches,but this time I broke the rule.My goodnes but this was sooooo good,I just had to have 2 this time. and what a good idea to use hot dog buns instead of hamburger buns,it was a lot easier to eat and didn't fall out everywhere like it does in hamburger buns. Thank you for this delicious recipe.Darlene
In a saucepan, brown and saute together the ground beef, onion, green pepper, and mushrooms (if using).
Cook until crumbly and well done.
Drain off the fat.
Add the ketchup, green relish, cheese slices and mustard.
Stir well until the cheese slices melt and it is well mixed.
Heat for a minute or two more.
Stuff the mixture into hot dog buns.
Serve.
These can be reheated by wrapping in foil and placing in a warm oven.