Stuffed Zucchini Italiano
Debbwl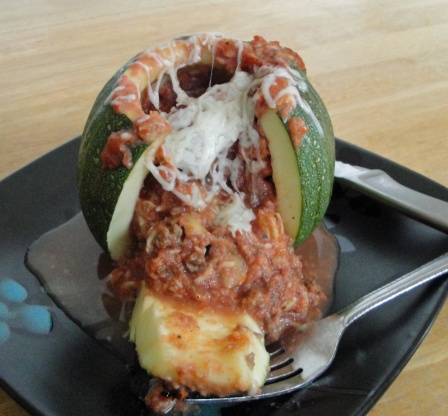 Not sure where I got this recipe, but it's easy and good.

Top Review by Debbwl
Paired this with some garlic bread for a great one dish meal that was a snap to make, I had two nice round stuffing zucchinis from my friends yard so I cut the recipe in half to accommodate having just the two zucchinis. The cook time was spot on as my two round guys turned out nice and tender (firm but not crispy) without turning to mush. They were a little wet but think that was the squash and not the recipe because when I was scooping them out noticed they were wetter than regular zucchini. This is something we will definitely be enjoying again, thanks for the post.
Preheat oven to 375~F.
Trim ends of zucchini.
Cut zucchini in half lengthwise.
Carefully scoop out centers leaving 1/4-inch thick shells.
Chop pulp (makes about 1 cup); set aside.
In a large skillet brown ground beef; drain fat.
Stir in reseved zucchini pulp, bread crumbs, Parmesan cheese, oregano, salt, pepper, 1/2 cup marinara sauce and egg; mix well.
Place zucchini shells in a shallow baking pan.
Spoon meat mixture into shells.
Pour remaining marinara sauce over and around zucchini.
Cover and bake until zucchini shells are tender, 30 to 35 minutes.
Sprinkle with mozzarella cheese.
Bake, uncovered, until cheese melts, about 5 minutes.