Derf2440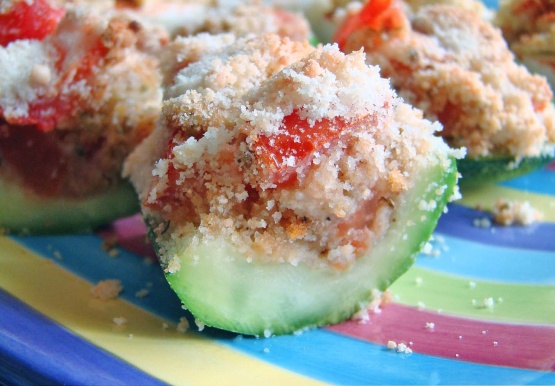 Side dish from a community cookbook. Use 1 zucchini per person so each will have 2 lenghtwise halves.

This was good. I think the amount of breadcrumbs needed depends on the size of the zucchini. I used a HUGE one from my garden, and could have used more breadcrumbs. We felt this was kind of bland, but when we added some spaghetti sauce, that gave us the extra flavor we were looking for. Great recipe, thanks for posting.
Cut zucchini in half lengthwise and scrape out the inside, saving the shells.
Place shells in a baking dish.
Saute the zucchini pulp in the oil and add the tomatoes.
Add the garlic and oregano and then add the breadcrumbs.
Mix in the pan.
Spoon the mixture into the reserved zucchini shells and bake at 350 degrees F. for about 20 minutes.
Sprinkle with parmesan cheese and serve.