Chouny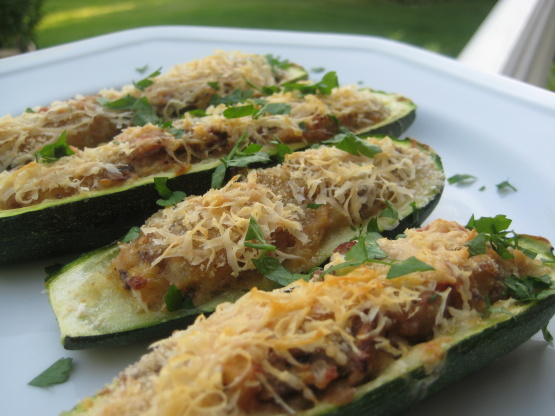 Boy was this good!!! I made a few changes, only because I had it on hand. I had one huge zucchini in the garden (12 inches). I added a large handful of fresh spinach to the mixture instead of the parsley and 3 strips of leftover cooked bacon instead of the mushroom. My husband LOVED this recipe and insists on it again this week. Thanks so much for posting.
Slice zucchini in half lengthwise. Scoop out insides leaving about 1/4-in shell.
Finely chop zucchini pulp; set aside. Saute onion in oil in large heavy skillet. Add mushrooms, garlic and reserved chopped zucchini; cook over medium heat until most of moisture evaporates.
Add cream cheese, egg, Parmesan, parsley, and pepper.
Mix well; cook for about 10 minutes.
Cool filling slightly and fill zucchini shells.
Sprinkle with additional Parmesan cheese. Place on jelly roll pans; bake for 30 minutes at 350°F until bubbly and golden brown on top.