Bergy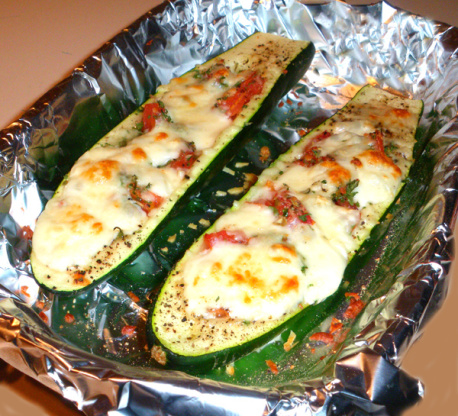 This is a more simplified recipe for stuffed zucchini compared to some of the others posted here at "zaar", but it is simple to put together and very tasty! This is from Cooking for 2 Summer 2007. Hope you enjoy!

Top Review by Nikoma
Went the make dinner last night and found I had no Vegetable. Only thing I cold find was one lonely zucchini. I thought "what can I do with ONE zucchini!?" This was perfect! I'm with Bergy. I didn't pre-cook. 20 minutes in the oven and they were cooked through but still had some crunch. I liked them even more once they cooled off. I could easily eat these cold in my lunch!
Cut zucchini in half lengthwise.
Scoop out and discard pulp, leaving a 1/4 inch shell.
Place zucchini in a sauce pan and cover with water. Bring to a boil; cover and cook 2 to 4 minutes or until tender. Drain. In a small bowl, combine the tomato,cheese,parsley, salt, garlic powder, oregano and pepper.
Spoon into zucchini shells.
Sprinkle with Parmesan cheese.
Place in an 8 inch square baking dish coated with non-stick cooking spray.
Bake, uncovered, at 350 for 2--25 minutes or until heated through.