2Bleu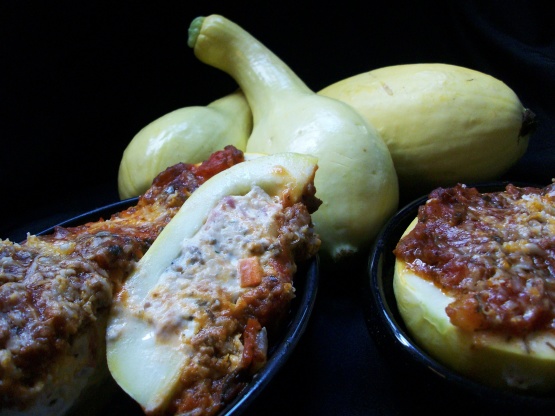 We recieved some beautiful yellow squash from a neighbor and came up with this tasty recipe. You can use/substitute the squash for zucchini also, or create a variety at the table to include eggplant also. If you don't eat meat, just omit the sausage. It will still be wonderful.

Great summer sidedish with pork loin!!!!!
Filling

4

ounces neufchatel cheese, softened or 4 ounces cream cheese
1⁄4 cup 2% low-fat milk

4

ounces Italian sausage, cooked, drained and crumbled

2

tablespoons onions, chopped fine

2

tablespoons bell peppers, chopped fine

2

tablespoons carrots, chopped fine

2

mushrooms, chopped (optional)

1

garlic clove, minced

1

teaspoon fresh basil, chopped

2

tablespoons soft bread cubes (or crumbs)

Other Ingredients Needed

2

yellow squash
1⁄2 cup spaghetti sauce
1⁄4 cup low-fat parmesan cheese, grated
Preheat oven to 350 degrees. Mix cream cheese and milk in large microwaveable bowl. Microwave on high 1 minute or until cream cheese is melted and mixture is blended.
Add remaining filling ingredients. Toss to coat and set aside. Take some aluminum foil, and crimple to make a log about 1" high. Use this to support the 'neck' of the yellow squash so they will lay in a horizontal position in your baking dish. Set aside.
Cut Squash (or zucchinin) in half lengthwise. Using a spoon, scoop out seeds to create a boat. Divide filling equally amongst the boats.
Place boats in a shallow baking dish. Spread 2 Tbsp spaghetti sauce over each boat. Top with a sprinkling of parmesan cheese and bake for 30 minutes.