Stuffed Turkey Breast With Cranberry Glaze
Prep 20 mins
Cook 1 hr 30 mins

Haven't tried this -- posted in response to a request -- but it sounds fabulous and fairly easy too. I clipped this out of the Food section in the Toronto Star newspaper.
Directions
To make stuffing, melt butter in a skillet over medium heat and saute the onion, celery and carrots for 5 minutes or until the onion is translucent.
Add stock and seasonings; remove from heat.
Mix in bread cubes and cool slightly.
For glaze, mix all glaze ingredients in a medium-sized bowl; set aside 1/2 cup to serve, cold, with meal.
To make turkey, preheat oven to 325F and lightly grease a baking dish or a small roasting pan.
Place turkey breast on your cutting board and, holding a knife parallel to the board, slice meat through middle, leaving last inch intact.
Open meat like a book and cover with plastic wrap; pound with a meat mallet to even thickness.
Cover one side of meat with stuffing.
Fold other side over and secure with toothpicks along the edges.
Transfer to your baking dish and pour remaining cranberry glaze over.
Bake, uncovered, for 60 to 90 minutes or until cooked through and juices run clear.
Let rest 5 minutes before slicing.
Most Helpful
This dish was excellent as is. I had a turkey breast I needed to make and found this recipe to try. The stuffing was moist and flavorful and the glaze tasty. We devoured it. I have made it another time since. It's a keeper. Thanks!
What a great recipe!! The stuffing was flavourful, moist and that glaze was to die for! All in all, a really fantastic recipe and perfect for when there's only 2 of you and you don't need an entire turkey!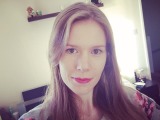 My son had to choose a recipe to make for our family, and he chose this. It's not something I would have chosen because I would have thought it was too much work, but it was pretty simple. Everyone really enjoyed this!