Derf2440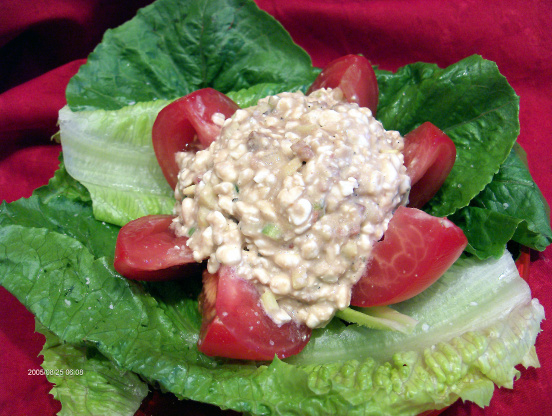 These make a wonderful luncheon during tomato harvest season. Serve with herb or garlic toast. (chill time 1 hour)

It was easy to scale this recipe for 2 people - I had the first tomato for lunch today & I'll have the second for lunch tomorrow! Other than using low fat Ricotta, I followed the instructions exactly. This makes a tasty dish with a very nice presentation that I will serve when the ladies come for lunch - thanx Derf!
Cook bacon until crisp; drain, crumble bacon and set aside.
In a bowl combine mayonnaise, vinegar, basil, crisp bacon and a dash of cayenne pepper.
In another bowl, stir together celery, green onion and cottage cheese.
Add bacon mixture.
Cover and let stand for one hour in refrigerator.
Line four salad plates with romaine lettuce leaves.
Cut stem ends from tomatoes.
Place tomatoes cut sides down, on lettuce leaves.
Cut each tomato into sixths to within 1 inch of the bottom, being careful not to cut through.
Carefully spread out sections, forming a flower.
Sprinkle with salt.
Fill each with an equal amount of cheese mixture.