Stuffed Strawberry Cheesecakes
DuChick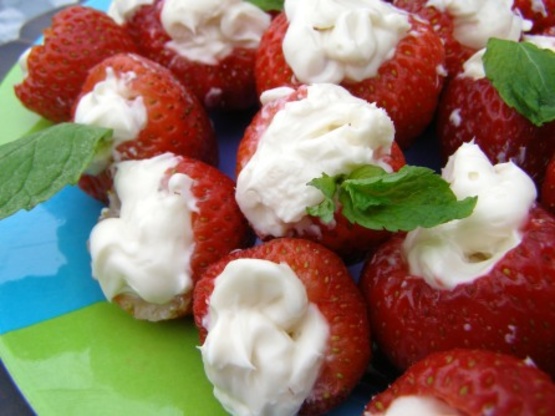 Cute little dessert or appetizer from Shape magazine (August 2006).

Fabulous little treats! I used a narrow potato/veggie peeler to hollow out the strawberries and then piped the filling in using a zip-top bag. Both of these tricks helped to make the job easier. It still took a bit of time, but the ooh and ahh results were worth every minute. I made these for a school retirement party and every berry was spoken for. Thanks Vino Girl!
Slice off the stem end of each strawberry. Use a knife to scoop out a little bit of each berry to make a hole in the center. Set aside.
Combine cream cheese, sugar and vanilla in a small bowl.
Fill each strawberry with the mixture, mounding a bit of the mixture on the top of the strawberry.
Garnish with mint and serve.