Prep 15 mins
Cook 25 mins

This is a recipe I've been making for years. The original recipe came from Taste of Home magazine in '98. It is awesome! *I add garlic and swiss to mine, though.
Directions
Cut the bread lengthwise and crosswise without cutting through the bottom crust into about 1" squares.
Insert cheese between cuts.
Combine butter, onions, garlic and poppy seeds, drizzle over the bread and cheese evenly.
Wrap in foil, place on cookie sheet.
Bake in 350º oven for 15 minutes.
Uncover and bake 10 minutes longer or til cheese has melted.
Serve warm, pull apart to eat!
Most Helpful
I have been meaning to try this for probably 4-5 years from my TOH cookbook, but I am too lazy to look thru all of them to find it! Luckily, I stumbled across this posting a few weeks ago. My husband and I liked it as written, but my kids didn't like the flavor of the swiss, the green onions or the "crunch" of the poppy seeds--WWWAAAHHHH! However it is a very adaptable recipe. Next time, I would also increase the garlic (and NOT share with my chldren!) Thanks for posting!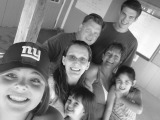 Simply outstanding!!! It was raved over at the cocktail party I took it to. I used 2 mini-rounds of sourdough (3/4 lb each), swiss cheese, garlic and onion gouda (OMG!), and the rest as posted. Easy, fun to make, traveled well in the foil and easy to pop in the oven for a quick warmup once there. So glad I found this and tried it, thanks for posting!

Yum! I've had this before, and always kept forgetting to ask for the recipe. We had this with Minnesota Wild Rice Soup #183736. Good stuff!!! I also, on a whim, used only Havarti cheese. DH and both DS loved it! Thank you so much for posting!