Stuffed Shells With Crispy Pancetta and Spinach
KPD123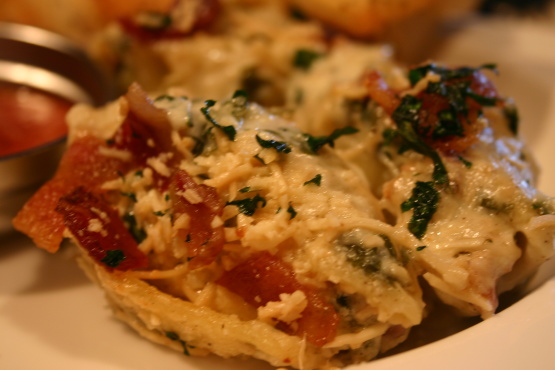 i love the asiago cream sauce! you could also use a red sauce. if pancetta is hard to find or you're on a budget, use bacon!! another giada recipe! i tweaked it quite a bit.
Preheat the oven to 375 degrees F.
For the shells: Bring a large pot of salted water to a boil over high heat. Add the pasta and cook until tender but still firm to the bite, stirring occasionally, about 10 minutes. Drain pasta. Toss with 1 tablespoon olive oil and allow to cool before stuffing.
Warm 1 tablespoon olive oil in a large, heavy skillet over medium heat. Add the pancetta and cook until lightly golden, about 5 minutes. Remove the pancetta from the pan with a slotted spoon and transfer to a large bowl.
Add the spinach, onion, garlic, parsley, ricotta cheese, asiago cheese, pepper, and nutmeg. Stir to combine.
Stuff the shells with about 2 tablespoons of the spinach mixture each and place the stuffed shells in a large, buttered baking dish.
For the sauce: Melt the butter in a medium saucepan. Add the garlic and cook for 1 minute.
Add the cream and bring to a simmer.
Turn the heat to very low and add the 2 cups asiago cheese, parsley, and pepper. Stir until the cheese is dissolved.
Pour the sauce over the shells. Top with the remaining 1/4 cup asiago cheese.
Bake, covered, until golden on top, about 25 minutes. Remove from the oven and serve immediately.