Stuffed Shells Florentine (low Fat)
Babs7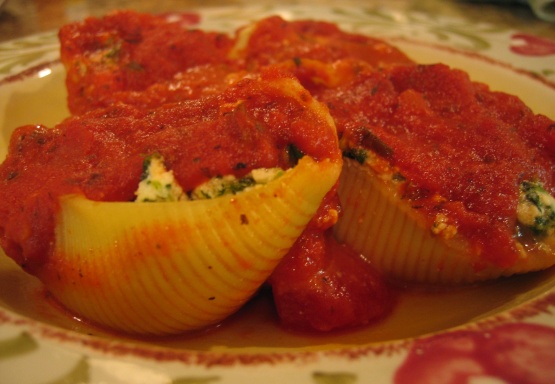 I found this on the WW site. I was happy to find a healthier version of one of my favorite meals. 5 WW points per serving.

We all really enjoyed this! I added 1/2 cup shredded parmesan cheese before bringing to the table. I did use my own spaghetti sauce though.
In large skillet, over medium-high heat, saute mushrooms, onion, garlic, Italian seasoning and pepper in margarine until tender.
Remove from heat; stir in cottage cheese, spinach and egg beaters.
Spoon mixture into shells.
Spread 1/2 C sauce in bottom of 13X9X2 baking dish; arrange shells over sauce.
Top with remaining sauce.
Bake at 350 for 35 minutes, or until hot.
Special Notes.
You can make some substitions in this recipe. Use fat-free ricotta instead of the cottage cheese, and used light margarine.
Nutrition info: Calories - 255 Total Fat - 2g. Fiber - 3 g.per serving.