Stuffed Shells Florentine
DeniseBC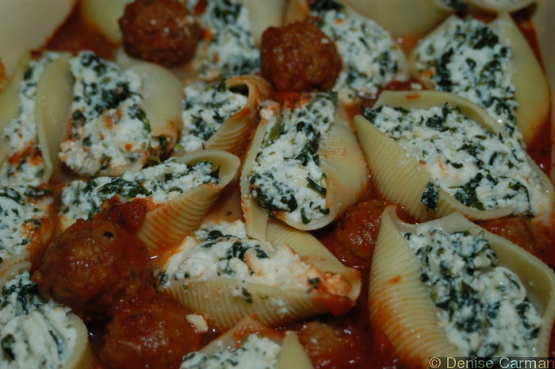 This recipe is simple to make. I always have marinara sauce on hand, so I can just create any pasta dish in a hurry. Sometimes I make little meatballs and toss them on top of this dish. This recipe is a great vegetarian dish.
This was a tasty supper, but made a lot! The only shells I could find in rural NC were probably not as big as the ones School Chef used because I had to use 2 pans and still had 8 or so left when I ran out of filling. Because of the extra pan I wound up using more sauce than listed, but this was a tasty and easy dish! Otherwise I followed the recipe as listed--I recommend using a good quality marinara with plenty of spice because it really makes the dish. I also threw in a few frozen meatballs into the sauce as it was heating and tucked those around the shells before baking. Nice supper with plenty of leftovers for another night for DH and me. Congratulations School Chef on your week 1 win in the 2010 Football Pool! Came back on day 2 to say these are even better on the second day so great for taking to lunch!
Cook Shells in boiling salted water according to package directions.
Cook spinach according to package.
After cooking spinach squeeze to drain excess water. Chill.
Blend Cheeses, egg, spinach and black pepper together well.
Warm Marinara sauce.
Pour 2 C sauce in the bottom of a 9 x 13 pan, reserve remaining sauce.
Using a teaspoon fill shells, place in pan in single layer.
Cover and bake 20 to 25 minutes at 350°F.
Serve with remaining sauce.