diner524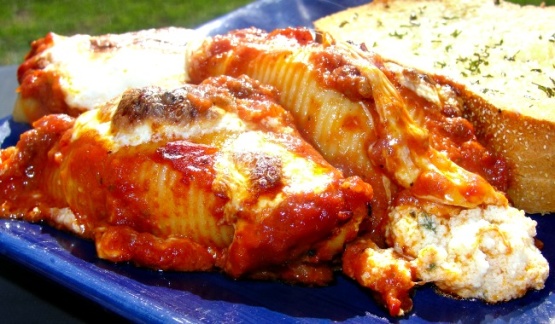 Found this delicious recipe in Cuisine at Home. The bolognese alone sounds wonderful and the ricotta-stuffed shells are a bonus. As with all homemade sauces, this recipe takes a little more time, but is well worth it.
I am rating this a 5 star, as I think something I bought (or maybe I don't care for mascarpone cheese in savory dishes or mixed with Merlot, but have loved it in sweet dishes) was spoiled, my sauce had a very almost sour taste that ruined the wonderful creamy richness of the sauce. All the items I used were well before the "use by date", just know I love all the ingredients in the recipe, so not sure what happened. I only made 1/8 of the recipe with all ingredients baked together. I made the full amount of sauce, filling, shells, but only made 3 stuffed shells with the sauce and fresh mozzarella(all the ingredients together) and served them with a wonderful garlic bread for my lunch. I love recipes from "Cuisine at Home" so I know this must be an excellent recipe, especially with Evelyn's glowing review, but something went wrong within my sauce. I loved the fresh mozzarella and the filling, so would definitely try this again, maybe with a different wine? Thanks for sharing the recipe Nancy!! Made for "FYC" tag game.
Preheat oven to 400 degrees F. Bring a large pot of salted water to a boil for the shells. Brown sirloin for the sauce in oil in a large saute pan over medium-high heat. Spoon off fat, add onion, celery, and carrot, and cook until soft, 5 minutes. Stir in tomato paste and garlic; cook 2 minutes, then add wine.
Simmer until wine is reduced by half, then stir in tomatoes, milk, salt, basil, oregano, and pepper flakes. Cook 15 minutes, stirring occasionally; finish with mascarpone. Spoon 1/4 cup sauce into each of 8 individual ovenproof casserole dishes (or spread 2 cups sauce in one 3-qt. baking dish). Set dishes aside.
Cook shells just until pliable, about 8 minutes (they will finish cooking in the oven). Drain, then plunge into ice water to stop the cooking; drain again and set aside.
Combine ricotta , part-skin mozzarella, parmesan, parsley, eggs, and salt in a large bowl; stuff mixture into shells. Arrange shells in the prepared dishes on top of sauce, cut side down. Spoon remaining sauce over shells, top with fresh mozarella, and bake until cheese is melted and sauce is bubbly, 25-30 minutes. Let shells rest 10 minutes before serving.