Lorac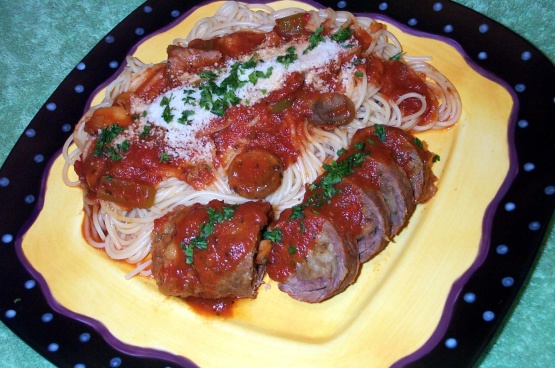 This is so easy and very tasty - and Presents like you slaved all day

Top Review by incdeb
I'm sorry to say these didn't work out so well for me. The stuffing got too gummy for my taste... it was hard to slice them (even though i have a very good knife) without the filling squishing out. Perhaps my meat-to-stuffing ratio was off... if i try these again i would use less stuffing per roll, and i might make it with the minimum amount of water called for on the box instead of the maximum. On the up-side, my husband and son thought they were quite good.
precut rouladen beef (Available at most meat counters)

1

(6 ounce) box Stove Top stuffing mix

1

(680 ml) can pasta sauce (any flavour)
hot sauce
Prepare your stove top stuffing as instructed on package- making it with the maximum amount of liquid. Allow it to cool for about 10 minutes.
Unroll one slice of rouldaden at a time- and flatten it with the heel of your hand Place a generous amount of stuffing at the large end of the rouladen Roll the Rouladen so that the stuffing reaches both sides but does not fall out Place each one side by side in your cooking dish
Mix your hot sauce with the pasta sauce Pour the sauce mixture over the rolled rouladen sprinkle with salt, pepper and garlic powder.
Bake in a 350 degree pre heated oven for 45 minutes to 1hour
Remove the rouladen with a spatula- and slice the rolls.
Scoop the excess pasta sauce over the sliced rolls and serve.