Stuffed Red Bell Peppers With Rice, Pine Nuts and Currants
Prep 30 mins
Cook 1 hr 15 mins

Choose peppers that can stand up easily, as they are baked upright. Garnish with lemon wedges. Published in the Jerusalem Post, Sept. 07.
Directions
Heat 3 T olive oil in a saute pan, add onions and saute over medium heat for 10 minutes. Add rice and pine nuts and stir 5 minutes over low heat. Add currants, tomatoes, mint, allspice, sugar, lemon juice, salt and pepper; cook 2 minutes.
Add 1 1/4 cups broth and bring to a boil. Cover and cook over low heat for 12 minutes or until liquid is absorbed.
Taste and adjust seasoning; rice will be only partially cooked.
Preheat oven to 175°C Cut a slice off stem end of peppers, leaving stem on. Reserve slice; remove core and seeds from inside pepper.
Spoon stuffing into peppers and cover with reserved slices.
Stand them in a baking dish in which they just fit.
Add 1 1/2 cups broth or hot water to dish.
Sprinkle peppers with 2T oil.
Cover and bake for 1 hour or until peppers are tender, basting occasionally and adding a little more water if needed.
Most Helpful
This was delicious! My roommates are carnivores, so I added a bit of lamb sausage to the rice mixture, and I put half a can of chickpeas in for a bit of texture. Otherwise, I followed the recipe word for word and we all agree it was dilectible!
Excellent! Definitely a keeper. The mint and allspice tasted great alongside the sweetness of the pepper and raisins. I only used <1 tablespoon of oil, and didn't sprinkle any oil over the top. That was about the only change I made. The two of us ate four peppers for a vegetarian dinner and I ate the leftovers for lunch, mmmm! Thanks.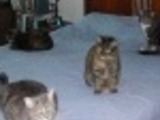 WOW! This was delicious. DH made this on his day off. The only change he made was to add some cubed chicken breast but it would be good vegetarian also. Very flavorful and refreshing. It's a keeper!!!