David04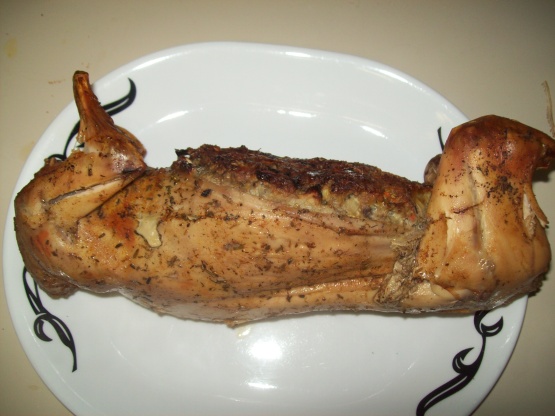 A nice baked stuffed wabbit! I use oatmeal for the stuffing because I cannot eat bread products, You can always substitute breadcrumbs instead.
Wash the rabbit with white wine vinegar.
Soak the rabbit in salt and water for at least one hour.
Preheat oven to 350F degrees.
Pat dry the rabbit.
Season inside and out with salt and pepper.
Mix the sausage, oatmeal, celery, carrots, mushrooms, apple, egg, sage, rosemary, parsley and onions (optional cranberries) together in a mixing bowl. Stuff inside the cavity of the rabbit.
Tie closed with cooking twine.
Place rabbit in a casserole baking dish, surround with excess stuffing inside foil, add well-seasoned beef stock, bay leaf and cook for 1 3/4 hours, or until tender.
Cut off twine and serve.