Kim127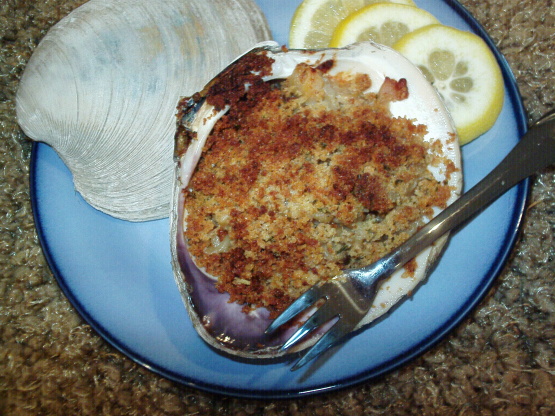 Quahogs are another name for hard-shell clams, and I know that at least in our region here in Maine, it refers to larger clams (as opposed to cherrystones). These are fairly easy to make, the worst part is the shucking, but I usually pass that job over to someone else. I eat these anytime I can get them. Update 10/16/2006. I've adjusted the cook times. We like them much better when they were cooked longer.

These were excellent! I have eaten "stuffies" many times, but had never attempted to make them at home before tonight. These are sure a mess to make, but oh so worth it. Absolutely delicious-the best stuffies I have ever eaten.
12

quahogs

1

cup onion, chopped

1

(4 ounce) can mushrooms, drained and chopped
1⁄4 cup butter, melted

3

tablespoons flour

1

teaspoon garlic salt

2

tablespoons butter, melted
1⁄2 cup dry breadcrumbs
Shuck quahogs and chop meat.
Wash shells.
Cook mushrooms and onions until tender in butter.
Blend in flour and seasonings.
Add chopped clams and cook about 10 minutes until flour is thickened, stirring constantly.
Grease clam shells and fill with mixture.
Blend butter and crumbs and sprinkle over filling.
Bake in oven at 400 for 20 minutes.