Derf2440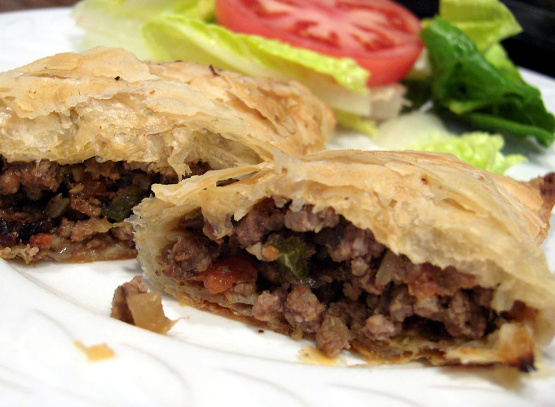 This is a versatile recipe that is great for lunch with a green salad, as a snack, or make tiny ones to serve as appetizers. They are freezer friendly. For large lunch appetites you may want to serve two per person. The recipe is medium"HOT" if you want spicy hot add another jalapeno The size and packaging of the puff pastry may vary from country to country. You will want to end up with eight 6" squares approx 1/8" thick.

Too high maintenance for an average tasting result.
In a large skillet separate and fry your ground beef until it is cooked but not yet browned.
Remove any grease from the skillet , add the tomato, onion, jalapeno pepper, ham or bacon, mushrooms & garlic.
Stir fry until the vegetables are cooked.
Add the soy sauce, Worcestershire sauce & oregano.
Continue cooking over low medium heat until the moisture has evaporated (approx 10 minutes), Season with salt & pepper. Allow to cool.
Meanwhile roll out the puff pastry into two 12" squares, cut each square into four 6" pieces.
Distribute the meat/vegetable mixture evenly on the center of each puff pastry square (just under 1/2 cup per square).
Fold one corner over to form a triangle and press the edges well together so they will not separate while baking, cut a small slit on the top of each puff.
At this point you may place the stuffed puffs on a cookie sheet and freeze them, when frozen wrap them well and place them in your freezer. When you want to bake them allow them to defrost in your fridge for 2-3 hours before baking. Continue with the final step.
Place the freshly made puffs (or defrosted frozen) on a cookie sheet in the center of a 400 degree preheated oven for approx 20 minutes or until they are nicely browned and cooked.
Serve warm.
You may want to, but not necessary, to serve a sauce on the side catsup, BBQ, Steak sauce or your favorite sauce, Enjoy.