Stuffed Potatoes Weight Watchers Style
rpgaymer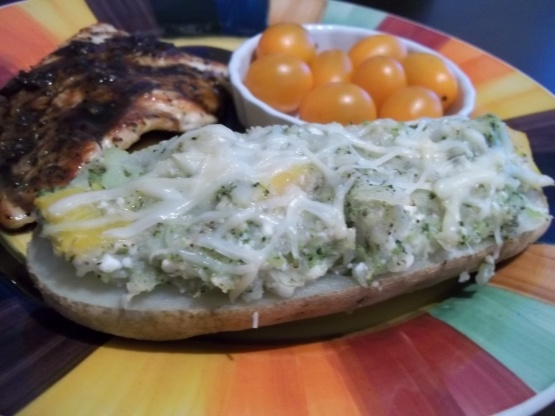 Recipe is from Weight Watchers New Cookbook. 3 points per serving can speed up time if baked in a microwave too.
Wow, this tasted very different than I thought it would... in a good way. I guess the mashed vegetables add some sweetness to the dish, and that really worked for me. I think next time I'll add some brown sugar to this, but I'm definitely making this again.
Preheat oven to 400'.
Poke baking potato with fork. Bake in oven for 1 hour. Reducing oven temp to 350'.
In a medium skillet, heat oil.
Saute onions about 5 minutes.
Add broccoli,carrot,and garlic and stir until soften, about 5 minutes. Reduce heat and cover and cook 4 minutes longer.
Halve the potatoes when done. Scoop out pulp.
In a large bowl combine potato pulp ,saute vegetables, cottage cheese, parsley, parmesan cheese, salt and pepper. Mash all up well
Spoon mixture into potato skins.
Place on baking sheet and bake until heated through for 15 minutes.
Serve alone or as a side dish.