1fatchef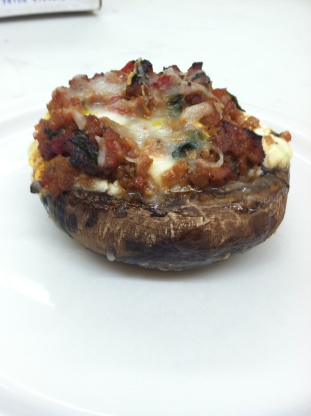 I love stuffed mushrooms but I've had a hard time finding recipes that don't have seadood in them. Here's a great one with sausage.

I used 1 lb ground pork in place of the turkey sausage. I only had two portobello (portabella) mushrooms so I used the remainder of the super yummy mixture to fill regular white mushrooms. I also used four slices of dark toasted wheat bread instead of seasoned bread crumbs. Reduce the amount of cayenne in 1/2 if you have small children as it is very spicy combined with pepper. I topped mine with sour cream for my 8 year old son. Overall, it's a spicy, creamy, cheesy, meat mix filling inside mushroom caps. I highly recommend it and it would be a smash in white mushroom caps at a party.
Remove stems from portobello mushrooms.
Arrange the mushroom caps, bottoms up, on a medium baking sheet.
Chop the stems and set aside.
Place turkey sausage link on a small baking sheet.
Cook uncovered in the preheated oven 15 minutes, or until the interior is no longer pink.
Remove from heat and chop.
In a medium saucepan over medium heat, mix together chopped mushroom stems, chopped sausage, chopped garlic, crushed garlic, cayenne pepper, black pepper and seasoned bread crumbs.
Slowly cook and stir 5 to 7 minutes, or until bread crumbs begin to brown.
Remove from heat, allow to cool approximately 10 minutes and transfer to a medium bowl.
Preheat oven to 350 degrees F (175 degrees C).
Mix cream cheese and Parmesan cheese into the mushroom stem mixture.
Stuff the mushroom caps with the mixture.
Bake stuffed mushrooms in the preheated oven 20 minutes, or until stuffing is lightly browned.