Stuffed Pork Tenderloin With Cilantro Lime Pesto
Tessa22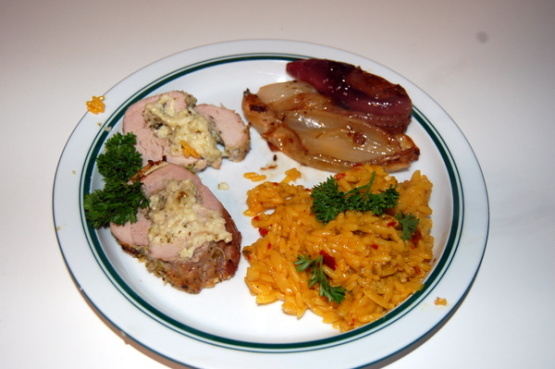 Cilantro, also known as coriander, is a signature spice in Mexican cooking. In this recipe it combines with lime to add zing to pork tenderloin, a sensational main dish for an elegant dinner.

This is one of the best, most flavorful pork recipes that I have ever made. My husband still raves about how good this was.
PREHEAT oven to 400°F.
CUT tenderloin lengthwise almost in half.
Open; lay flat between two pieces of waxed paper.
Pound with meat mallet or rolling pin to 1/2-inch thickness.
PLACE garlic, onion, cilantro, lime juice and jalapenos in food processor or blender container; cover.
Process until coarsely chopped.
Process, while slowly adding corn oil, for 10-15 seconds or until mixture is slightly smooth.
Spread half of cilantro mixture over tenderloin; top with cheese.
Roll up; secure with string.
Spread remaining cilantro mixture over top.
Place on rack in roasting pan.
BAKE for 55-60 minutes or until internal temperature of 170 F is reached.
Cool for 5 minutes.
Remove string; slice.
Serve with picante sauce.