haywood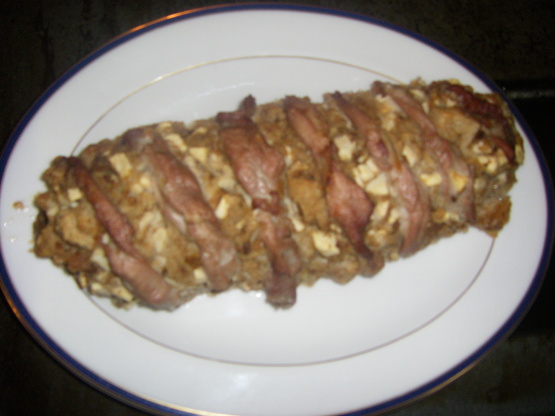 This is a very old recipe handed down for generations and had to be adapted for electric stove and a busy schedule. This is how my family has prepared this dish for generations. It's always a favorite when served.

I made this recipe without the benefit of cranberries or apples. I like this but found myself without one day and tried it anyhow. Wow...quite tasty and very beautiful... for me that is an accomplishment, usually my food tastes good, but don't look at it!! LOL
Season loin with salt& pepper to taste.
Arrange sage leaves over loin.
Sear in cast iron skillet w/just enough oil to coat bottom of pan.
Remove from stove top when sides are nicely browned.
Mix together prepared stuffing with cranberries and chopped apple.
Remove loin from skillet and make a slit down the long side of the loin (one side only- careful not to cut into two pieces).
Loosely pack the stuffing into the cut loin and return to skillet- any extra can go around the outside of the loin.
Bake at 400º on top rack of oven till done- 35-45 minutes.